Palletizing Software
Our palletizing software features an intuitive graphic interface that works directly with the robot. End-users build pallets by entering dimensions and dragging boxes into the position they are to be placed.
Software Features
Easy-to-use graphic interface
Drag and drop pallet array building
Copy and rotate options for layer stacking
Quickly switch between A/B pallets
Save hundreds of pallet programs
Program remotely - load in through USB
Palletizing with Universal Robots
Using the OEM version of the Universal Robots 10e cobot arm, our team of engineers have eliminated the teach pendant, creating a simplified interface for end-users to create and save new pallet configurations on one HMI.
Free-drive Enabled
Simply enable free-drive from the HMI and teach coordinates by manipulating the cobot directly - no programming needed!
Step-by-Step Pallet Building
With our drag-and-drop functionality, end-users can have their palletizing applications automated in minutes. Combined with the ability to save hundreds of configurations, the PalletizUR provides a flexible robotic solution that can be repurposed in minutes as production demands change.
1. Start New Pallet
2. Enter Dimensions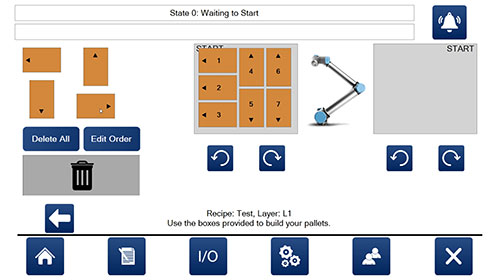 3. Build Left Pallet
4. Build Right Pallet
5. Finalize Pallet Layers
6. Teach Pick / Place Locations
Program Customization
Our software is loaded with features designed to make sure each program meets the specifics of your application.
Palletize two lines at once (box A to pallet A, box B to pallet B)
Easily make labels visible for inventory scanning
Add slip sheets based on production demands
Built-in end-effector configurations
Customizable by User
Our software provides the ability to grant varying levels of access with password protected security features.
Realtime Service & Support
Designed in the USA, built in the USA, Supported in the USA. Simply connect the PalletizUR to the internet and our team can provide real time troubleshooting and support services.